Brigantine Community School Closure/Corona Virus (COVID-19) Information Page
Parent Workshop
COVID-19 - Parenting During a Pandemic
Letters to Parents/Staff
April 27th Update for Parents, Student and Staff of Brigantine Community School
Health Information
Meal Services
We are pleased to announce that we have signed a state waiver that will now assist ALL Brigantine Community Student Families. We will provide a Pick-Up Meal Service Program to all Brigantine Community Students 18 years of age and under, effective Monday, May 4th. Click on the link below to comeplete a form with your family information.

Meals For All Brigantine School Families

If your employment or income has been negatively impacted by COVID-19, you are eligible to apply for free or reduced meals for your child(ren).
Please click on the link to the application, complete and print the application, and mail back to
Brigantine Board of Education, Attn: Business Office, 301 East Evans Boulevard, Brigantine, NJ 08203.
Attached applications in English and Spanish for the links.
INSTRUCTIONS FOR PICK-UP
**** See below for our revised lunch pickup calendar****
For our free and reduced students, meals will be available for pick up at the Brigantine Community School at Door # 22 (Auditorium doors). This is the entrance directly across from the water tower at the intersection of Roosevelt Boulevard and Sheridan Place. Physical interaction is not permitted. Grab and go bags will be available this week as follows:
Times are between 9:00am to 11:00am
If you are picking up more than one childs meal, please being a bag or a box to carry the meals
INSTRUCTIONS FOR DELIVERY
Families that need delivery will also have their meals, and will also follow the same schedule and times. Meals will be by non-contact on the front door step of the residence. No physical interaction is permitted.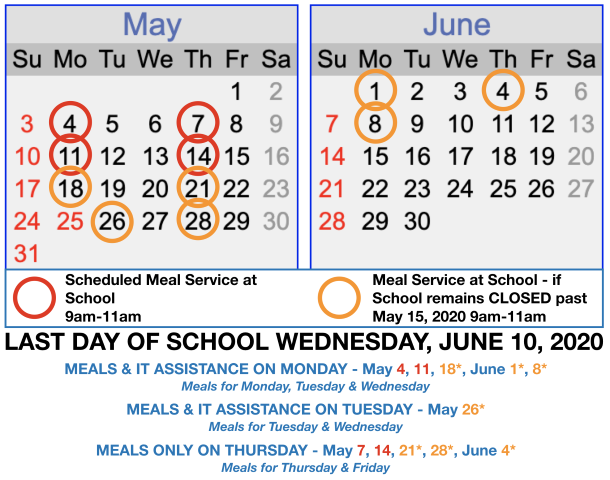 Please wear a mask or face covering when picking up meals
Educational Resources for parents or students
Brigantine Grades K-5 STEM facebook page
Audible is offering free streaming of kids books
https://stories.audible.com/start-listen
Resources for parents or students
Atlantic County Food Bank Resource
FOOD PANTRY Provided by TRUE SPIRIT COALITION
If you or your child needs special help or additonal resources, please use the email link below.
New Jersey Mental Health Cares Hotline
866-202-HELP
https://www.njccc.org/coronavirus
- GENERAL INFORMATION-
NJ Department of Health 24-Hour Coronavirus Hotline: Speak to a healthcare professional at 1-800-222-1222 or 1-800-962-1253.
NJ 2-1-1 Call Center: For general coronavirus information & basic needs, dial 211. For alerts/updates, text NJCOVID to 898-211.
---
- HOUSING-
Mortgage Assistance:
Housing Counseling:

---
- LABOR and BENEFITS-
Centers for Medicare & Medicaid Services Essential Health Benefits:
NJ COVID-19 Benefits Chart:
NJ COVID-19 Benefits Chart (Español):
Department of Labor Benefits Info:
---
-SMALL BUSINESS-
Business Guidelines:
SBA's Economic Injury Disaster Loans:
U.S. Small Business Administration:

---
-CONSUMER PROTECTION-
Consumer Financial Protection Bureau:
Information on Scams During the Coronavirus Outbreak:
---
-MENTAL HEALTH and WELLNESS-
Mental Health Association of New Jersey:
Alzheimer's Association COVID-19 Tip Sheet:
Alzheimer's Association Free 24/7 Helpline: 800-272-3900
Domestic Violence Resources:
National Suicide Prevention Lifeline: 800-273-8255
Mental Health Information and Referrals: 1-866-202-HELP (4357)
NJCEDV's Response to COVID-19:
NJCEDV State Hotline: The statewide domestic violence hotline is available at 1-800-572-SAFE (7233), and can help direct survivors to the resources closest to them, and the National Deaf Videophone is available to assist Deaf survivors at 1-855-812-1001.
Technology Resources for students/parents/staff
If you need technology help during school closure please, use the email link below